CertWatch 1.0 has been submitted to Addons.Mozilla.Org (AMO) and it will take a few days before it gets reviewed and released to CertWatch AMO page. Currently, AMO has the previous version of Certificate Watch, CertWatch 0.8.
For now, here are a couple of screenshots of CertWatch 1.0.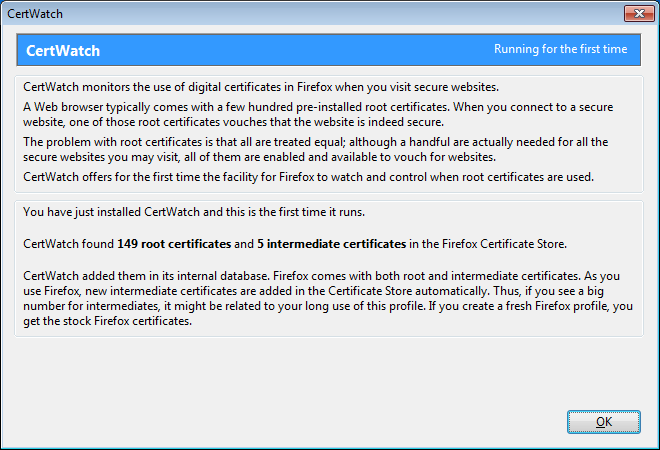 Firefox 3.6.8 comes with 149 root certificates and four intermediate certificates. While you browse and visit secure sites, there are intermediate certificates that are added to Firefox (in a file in your profile). Here I did some browser before installing the add-on, hence it shows five intermediate certificates.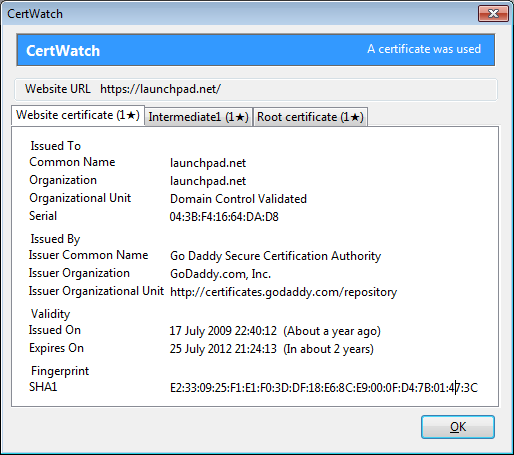 Here we visited https://launchpad.net/. The certificate chain is composed of a website certificate, a single intermediate certificate and a root certificate.
On the tabs, in the parenthesis, the number denotes how many times those certificates have been used when we visit secure websites. Since we just started, they show "1".
The stars next to the number show whether our preferences specify that we should show the specific certificate to the user. The default for CertWatch is to show each certificate for the first time it is used only. Therefore, all three certificates have a star.